Start: 20:30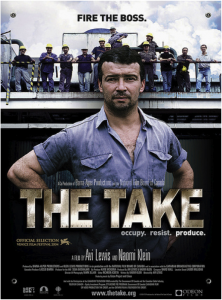 Entrance: free!
The Take tells the story of Argentinian workers who reclaim their factory which has been closed due to the economic crisis that hit Argentina as a result of the neo-liberal policies of the Menem government and the IMF.
The documentary shows how workers reclaim their factory and turn it into a worker cooperative, a mode of running a company that is not aimed at profit for stakeholders or for a single owner. Instead, in worker collectives the workers co-own the company they work for, and the company is run in a democratic fashion. Worker collectives open up a conceptualization of work that takes its social dimension into account.
The cooperative is a potential alternative to the exploitation of large companies who act mainly out of the desire to provide profit for the stakeholders.
During this session of Occupy College we screen the documentary and discuss the potentials of the cooperative model.
Jacopo Sermasi is a writer and photographer from Bologna living in Granada (Spain). In 2008 together with Roberto Rizza he edited "Il lavoro recuperato: imprese e autogestione in Argentina" (The recovered work – Enterprises and self-management in Argentina), a collection of articles about the phenomenon of the "empresas recuperadas", after the 2001 economic crisis. He studied at the Univeristy of Bologna (Italy) and UCLA (US). He currently lives in Spain, focusing his studies on the commons and on the role of collective imaginaries in contemporary capitalism.