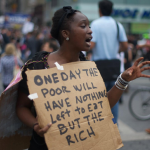 As outdoor temperatures are rising, the Occupy movement is taking to the streets again. The financial crisis seems here to stay. And the same market driven policies that got us into this mess, are now being forced upon us as a solution.
Which lessons can we draw from our experience with more than half a year of Occupy? In what ways should our strategies be adapted in order to be more effective?
With the help of skype interviews we will hear from the general strike in Spain, the renewed occupations in New York, and the planned blockade of the financial centre in Frankfurt. Afterwards we will open the discussion of the Dutch situation. Any group with plans or proposals is invited to come along, present and discuss together.
Practical info:
Start: 20:30
Location: Vondelbunker, Vondelpark 8a (under the Vondelpark bridge)
Language: English
Entrance fee: free/donation.