The value of anarchist mapping for changing society. A discussion with: Simon Critchley, Ernst van den Hemel and Baruch Gottlieb

Geography is often seen as the scientific view of the world par excellence. It maps, it charts, it determines what is important. Yet at the same time, there is a long-standing link between geography and that which is often associated with a resistance to authority from above: anarchism. Famous anarchist Peter Kropotkin, himself a geographer, wrote:
"Geography must render, moreover, another far more important service. It must teach us, from our earliest childhood, that we are all brethren, whatever our nationality. Geography must be  (…) a means of dissipating prejudices and of creating other feelings more worthy of humanity."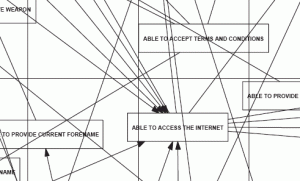 It is the goal of contemporary philosopher Simon Critchley to reinstate anarchism as a way of changing social relations. And, in a recent conference, Critchley reiterated the desire for new maps that are able to create a new view on the world that distances itself from dominant perspectives: "we are in desperate need of new maps".
During this event we discuss the potential of anarchism a means to understand our world. Why were so many anarchists geographers? What would an anarchist map look like? How can contemporary ways of mapping reality be used to "dissipate prejudices"? And what on earth is "mystical anarchism"?
The discussion takes place in de Vondelbunker, an old atomic bomb shelter that is now the home of Schijnheilig, a nomadic collective that claims neglected spaces and aims to transform them into creative, freely accessible and non-commercial places.
Participants:
Simon Critchley is an anarchist. He is also professor of philosophy at the New School, New York and at Tilburg University. He also acts as chief philosopher at the International Necronautical Society. Amongst his publications are: Infinitely Demanding (2007) and The Faith of the Faithless (2012).
Ernst van den Hemel is a scholar of literature and theology and part of the collective Schijnheilig. He published Calvinisme en Politiek: Tussen Verzet en Berusting (2009), and Alain Badiou's inesthetica: kunst, politiek en filosofie (forthcoming).
Baruch Gottlieb is a Montreal-born media artist exploring navigable fiction and documentary. 2005-2008, Gottlieb was assistant professor in Media Art at Yonsei University Graduate School of Communication and Arts, he is currently artist-researcher-in-residence at the Institute of Time-Based Media at the University of Arts, Berlin. His new book Gratitude for Technology (Atropos Press), explores the persistent materiality of the digital image.
This discussion is a follow-up to the Digital Methods Summer School 2012, which analyzed various forms of tracing data and mapping practices. The Digital Methods Summer School is organized by the department of New Media & Digital Culture, University of Amsterdam.
Picture: Detail from Heath Bunting's map of a Terrorist
Location: Vondelbunker
Monday 9 July 20:30